New
What a difference a decade makes, especially in an obscure disease like vitiligo. For a stark example, look no further than the number and value of the biotech companies involved in vitiligo drug development in 2010 - essentially, zero - and nearly 30 companies in 2019, and multiple clinical trials that are currently underway.
The traditional treatment options for vitiligo have undergone a sea change over the past decade. Dermatologists are now much more able to manage this difficult disease than previously -- including Psychosocial Therapies -- although not without certain Controversial Issues in Vitiligo Patients.
Search for the most effectve therapeutic protocol is still underway, while taking into account various Clinical and Molecular Aspects of Vitiligo Treatments. For the first time ever, a paper on Dermaroller needling with 5F for vitiligo from India made American Academy of Dermatology's Top 10 list of most talked about articles in 2019. Finally, our collaborative paper Therapeutic Options in Vitiligo with Special Emphasis on Immunomodulators was added to the armarium on the last day of 2019.
Scientific science scams were not uncommon, much like blatant plagiarism, fake research and scam ads that we were repeatedly going after. On the positive side, Dr. John Harris received Presidential Early Career Award for his outstanding contributions to vitiligo research.
The World Vitiligo Day has been celebrated every June 25th since 2011. A week-long campaign culminates efforts of numerous activists around the world. Its international headquarters move across the globe each year, this time from Hanoi'19 to Belgrade'20. Over the years, its purpose has broadened from raising awareness of vitiligo to include recognition of the bullying, social neglect, psychological trauma and disability of millions of people affected by vitiligo.
Tribalism set fire to much of the vitiligo communities in the mid 2010s, so no wonder some groups in the U.S. didn't make it through the decade. Neighborhood get-togethers now increasingly feel like a battlespace. At this point, our longing for a strong, united non-profit organization in the U.S. and Canada might seem a requiem, a sad story about a high hopes we once had. What might grow out of this remains unclear, but a neighborhood battered by hard times might revive itself.
And as we increasingly rely on pop culture to raise awareness for vitiligo, let's watch closely celebrities like a supermodel Winnie Harlow that burns down unspoken "norms", a spokesperson Lee Thomas that helps the world to Understand Vitiligo, or dozens of musicians that inspire change in society with a song or an album.
We can't agree more with Winnie when she says: "Small things change until we reach the end of a decade and realise all those small changes made for an amazing era!"
So long, 2010s. Long live, 2020s!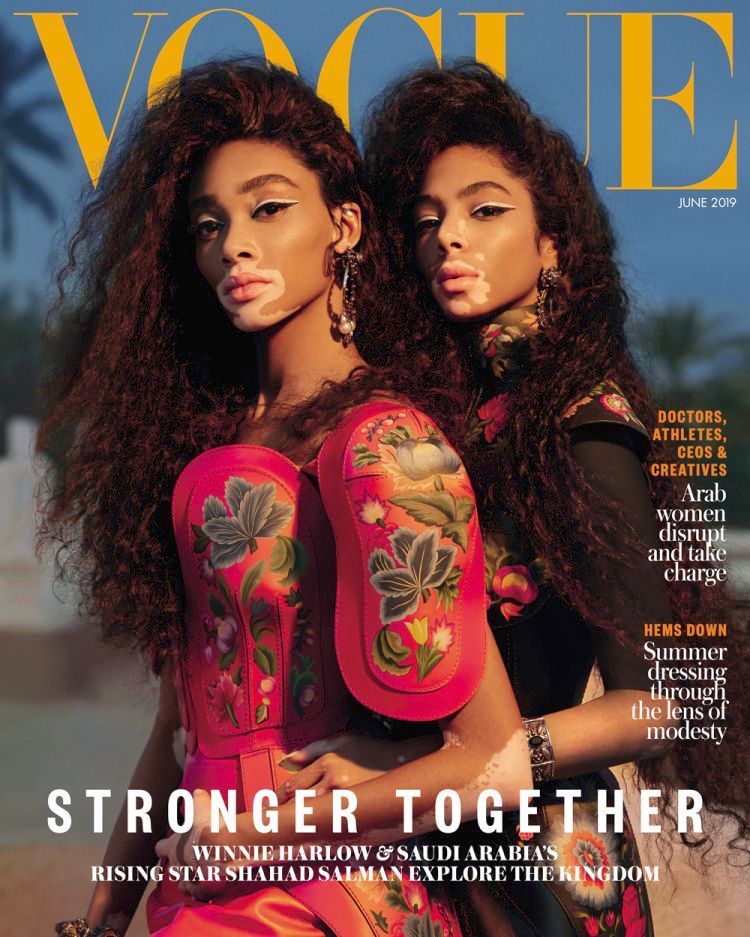 Image credits: Winnie Harlow and Shahad Salman shot by photographer Dan Beleiu and styled by Katie Trotter for the Vogue Arabia June 2019 issue cover story
Can chemicals cause vitiligo?

It's important to remember there are multiple factors involved in vitiligo onset, including genetic predisposition, living and working environments, and exposure to certain chem...

Is it Bitiligo? Vitaligo? Veteligo?

There are so many different ways that people try and spell or even pronounce Vitiligo.  Here are some common mis-spellings: bitiligo, vitigo, vitaligo, vitilago, vitiglio, vita...

How long does it take to treat vitiligo?

Treatment results will vary by person and type of vitiligo. The rule of thumb is that you will need to allow at least 3 to 6 months before you begin to see results from any trea...